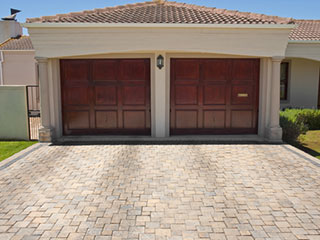 Seeing as the garage is one of the most important parts of most houses, It's up to the homeowner to make sure that they have the best door to protect their stored belongings. There are many great door brands available for you to choose from, like Clopay and Amarr, as well as automatic opener manufacturers such as Chamberlain and LiftMaster. All of these companies create high-quality models that can be an excellent choice for many homeowners. When it comes to choosing the door material, there are a few different things that need to be considered. As durable and strong as steel is, many people still prefer to go with the beautiful looking wood garage door, for a variety of reasons.
Looks Aren't Everything
While wood does have a strong visual appeal due to the classic beauty, but it has other benefits too. Although wood isn't as strong as steel, it is still quite durable, certainly more so than aluminum. It's also a natural insulator, which means it won't need to have more sheets added to gain that benefit the way a steel garage door would.
Appearance Is Important, Though
When it comes down to looks and curb appeal, you'd be hard-pressed to find a material that presents more classic beauty than wood. There's something about seeing the undulating patterns and the warm and cozy vibe that this type of material tends to give off. Not only will it be pleasing to the eye, it will also increase the monetary value of your home, as it will contribute to the house's overall appearance, which many potential buyers will appreciate.
A Few Disadvantages
While a wooden garage door is definitely a great choice, it comes with a price that's represented in more than just flat dollar value. Wood requires more frequent maintenance than aluminum and steel, due to its porous texture and the fact that is is a natural material. It could develop mold, rot or become warped over time, and regular repainting will be needed in order to preserve its condition. If you're not apprehensive about this type of work and don't mind a little extra maintenance in order to keep the wooden panels in great shape, then this type of door is probably the right one for you. Reach out to our team at Garage Door Repair Moorpark and we'll have our experts present the options that are available to you and explain the benefits of each model in great detail.