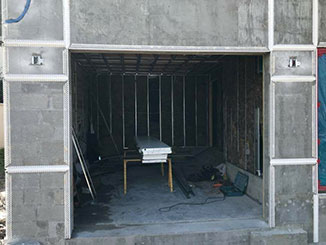 A garage door you can't rely on is a problem. At best it's inconvenient, making you late for work or locking you out in the rain. At worst, it can be downright dangerous, as springs wear out and safety systems fail. It can be hard to tell the difference between minor and major damage. That's why it's important to address problems as they arise - our team can tackle any issue and give you peace of mind that your door can be counted on to operate safely.
Fixing Broken Springs
One of the most common and dangerous problems that homeowners face is worn-out and broken springs - these components are required to hold your door up. When they fail, the door may come crashing down and become difficult to move. Springs can be hazardous, too, and should only be replaced by professional technicians.
If Your Door Is Off Track
It's easier than you might think for door tracks to become knocked and dented, and this could cause the door to become detached. Our team can handle this problem quickly and safely, returning your door to the tracks, and repairing them to ensure it remains safely in place.
Opener Wear And Tear
The most complex part of the whole system is the opener - it can develop a wide range of issues all of its own. A common problem that's hard to diagnose is a faulty circuit board, which can present a wide range of different symptoms. We can supply new boards from all major manufacturers, and will ensure your opener is brought back to perfect working order.
Frayed And Worn Cables
The weight of your door is carried by strong metal cables, and even the slightest wear or braiding can cause them to fail. This can be catastrophic - our technicians will carefully examine these components for any signs of damage or corrosion, and advise you if your cables are in need of replacement.
Our Team Is Ready To Help
Don't put up with a broken garage door, get it fixed today. Just contact our team at Garage Door Repair Moorpark to set up an appointment.
We also offer the following:

New Garage Doors

Fix Garage Door Track

Replace Door Sections

Bottom Seal Rubber