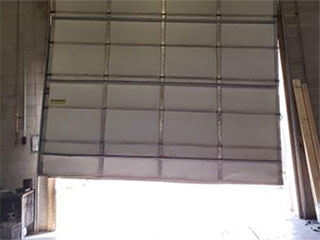 As useful and convenient as an automatic garage door system can be, it's not without its potential faults. The wear and tear that the various components are subjected too can lead to all sorts of malfunction. Regular maintenance can help mitigate those high-risk chances, but some accidents and problems can still occur. Understanding the potential issues and how to recognize them will help you deal with these scenarios as they unfold.
A Snapped Cable
When a cable breaks, your door won't be able to move up and down properly even though the opener is working as usual. The only solution to the problem is replacing it. The new cable must have the same length as the old one for the door to remain even and for it to be able to open and close smoothly. Usually, there is no need for the other cable to be replaced as well unless it is greatly frayed or has visible cuts. In general, it is wise to have these hardware parts replaced before they break, to avoid the risk of your door crashing down. It is fairly easy to recognize the early signs of this type of problem, as you will be able to notice damage to the cables with a visual inspection. Your door may also start making scraping sounds as it opens and closes.
Rusty and Bent Tracks
When one of the tracks is bent, the rollers that help the door move up and down could get stuck or slip out, at which point the movement of the door will stop. A quick inspection will reveal the bent section and how bad the situation is. Usually, the bending can be straightened with the right repair technique. If the track is too severely bent, however, replacing it will be the right solution. There are ways to prevent these components from bending and you should definitely take those measures into consideration. Frequent inspection for obstruction is an important part of proper garage door maintenance. You need to watch out for pebbles of different sizes and for dirt accumulations inside the tracks as well, as those can create blockages. The risk of such an obstruction getting formed will be much lower if you use a light non-stick lubricant on the metal rollers and hinges every so often.
Problems With The Opener
This device automates the movement of your garage door, and due to it using both electrical and mechanical components to function, it can experience a wider range of issues. The unit's main circuit board can fry, the motor gear could break or wear out, and even the safety sensors could malfunction, or become misaligned. Detecting these issues isn't hard, as the performance of your door will be affected. If your door won't open even though the motor seems to be running, or if it keeps reversing every time you try to close it, some part of the opener is probably at fault.
Let Professionals Handle It
Whatever the problem, you'd be wise not to try and handle it yourself as garage door systems can be very dangerous when mishandled. Our experts will be more than happy to help you with whatever you need. Call Garage Door Repair Moorpark today and let our team take care of your problems quickly and safely.